How to Use Pathos in Food Blog
This page explains how food bloggers can create a rhetorically effective blog using pathos. This explains the appeals of pathos which is one of the rhetorical strategies food bloggers need to use in order to persuade their audience. This page gives tips and techniques, while using examples of several popular food blogs.
---
What is Pathos?
According to Stephen Wilhoit in his book, Rhetorical Analysis,"Another set of strategies authors often employ to achieve their rhetorical goals involves appealing to their readers' rationality (logos) or emotions (pathos) or by establishing their own credibility as an authority on the topic (ethos)" (Wilhoit, 122). Pathos appeals to the emotions of the reader or the audience. The primary goal is to persuade the reader through the use of language, examples, diction, or images that create an emotional reaction in the reader.
(while the pathos is one of the important strategies, the ethos is another crucial rhetorical strategy food bloggers should learn. Using ethos appropriately supports your communication with your audience effectively and establishes your credibility as a food blogger. Whether the purpose of the food blog is promoting recipes or eating strategies to the audiences, using ethos effectively may eventually lead the audience to trust you and participate in your blog.)
What Does Pathos Do Within a Food Blog?
When attempting to motivate or persuade an audience, one must consider evoking an emotional response from audience. Because pathos is a powerful tool used to appeal to emotions, using it while creating your blog can help you control the emotional response of your audience more effectively. Additionally, when pathos is effectively used it can move the audience to participate as a contributor in your blog.
If you use pathos effectively in your food blog the pathos can evoke the emotional response of your audience, and you can have an opportunity to attract their interest in the blog post. Furthermore, it can lead them to have a powerful motive to participate as contributors for the online community. In short, pathos can absolutely enable you to call a broader audience to your blog.
How to Use Pathos Within a Food Blog?
Food blogs need to use the pathos effectively in order to make the audience feel happy and have an emotional connection with the writers. Doing this may eventually attract an audience to the blogs.
Providing entertaining stories and appetizing photographs of food which appeal to the emotion of the audience helps you to achieve your goal of motivating people to participate actively in your blog.
Entertaining Stories
"Stories are often the quickest path to the greatest emotional connection with your audience" by Andrew Dlugan: "18 Paths to Pathos"
Andrew Dlugan is the editor and founder of Six Minutes, Public speaking and presentation skills blog. According to his article, "18 Paths to Pathos: How to Connect with Your Audience", he claims that having something to say and telling it in an entertaining way is crucial. In food blogs, telling an interesting story absolutely evokes the emotions of audience, such as joy and surprise. In addition, telling stories can make an emotional connection between people and the online community.
Joy the Baker, one of 'the Top Fifty Food Blogs in the World' by the London Times, is exemplified in this strategy. Joy Wilson, the author of the blog, frequently writes about her stories while using entertaining expressions. For example, Wilson posted the story that her ice cream was melting so fast and she took a photograph of the ice cream to exhibit on her blog. She writes, "Can we all just stop pretending like it's easy to take pictures of ice cream? It's not. It's melty! It's madness. Can we just let it be what it is? Geez! We're not superheroes!" Her humorous expression with the interjection language helps her entertain the readers on the blog. Reader Kato commented, "I laughed so hard at this, I was thinking exactly the same thing first time I made choux pastry." Another reader Love Your Ego said, "OMG I laughed so much and I'm so ready to eat these!" The writer indicates her feeling of irritation by using the entertaining expression in the story, and the readers are deeply sympathetic to the view she expresses with mirth. Humor in writing "evokes emotions such as joy and surprise, and often triggers secondary emotions such as calmness and friendship. If your audience is laughing, they are having fun. If they are having fun, they are happy to be listening to you and they are attentive" (Dlugan). Her humorous story and expression can evoke a feeling of love toward the blogs by the readers so that they are motivated to visit her blog again. Overall, Wilson uses pathos effectively to arouse feelings of nature, such as sympathy and pleasure through her stories in the blog.
Brown Eyed Baker is another popular food blog. Michelle Norris, the author of the blog, often talks about stories of her family. Before she posts a recipe of mushroom lasagna, she writes, "Growing up in a very Italian family, I had eaten more than an entire town's worth of lasagna before I was old enough to drive. My grandma made it often for Sunday dinners, and usually made multiple versions, catering to various tastes." Before writing the recipe, she shares the story about her childhood in Italy and her grandma who often offered the Italian traditional lasagna for dinner. In the story, she mainly tells that, unlike the grandma's cook, the mushroom lasagna is non-traditional lasagna. Many readers comment favorably on her stories, while expressing their feelings of sympathy or pleasure. Reader Katie commented, "My mom is Italian as well, and she makes big Italian meals for all the holidays. I love the "nontraditional" spin that you put on this…and I'm sure even if it's not what they're used to, our moms would totally approve!" Another reader Georgie T comments, "I love reading your blog and hearing about your Italian roots. Having grown up in the western Pennsylvania (PA) area, but living in Michigan (MI) for 15 years, I drool every time you talk about the delicious Italian foods from your hometown area. I cannot wait until later this month when I come home to PA to celebrate my Mom's 60th birthday […] I look forward to your posts daily." They both seem to connect emotionally with the author since they are sharing their story through the comments. Many other readers also leave comments on the post to express their feeling of pressure and share their story. While sharing her memories of childhood and grandma, Norris successfully uses pathos to provide not only the place where her audience can share their short personal stories through comments, but also a motive to make the emotional connection between the audience and the blog.
In the two food blogs, both authors provide entertainment for their audience by telling interesting stories before the recipes. In food blogs, such entertaining content makes readers happy and that makes an emotional connection between people and the community. Telling an interesting story evokes not only mirth among the readers, but also a feeling of love regarding the blogs. In addition, telling stories with bright tone of voice or some funny expression before telling recipes help you attract the reader's interest. Using pathos effectively in such ways can lead readers eventually to have a motive to participate as contributors for the community.
Appetizing Photos
"A concrete visual element opens many more emotional pathways than abstract words alone" by Andrew Dlugan: "18 Paths to Pathos"
It's not enough to have stories and recipes alone for food blogs in order to appeal to the emotion of the audience. The bloggers need to have attractive photos, too.
(It does not mean you need an expensive camera. Many popular food blogs like Martha Stewart Everyday Food and Just Hungry have even used some iPhone pictures in their publication. You can go to here for skills how to take a good photo of food with i Phones.)
Photography is an essential part of a good blog post. If there is no picture in the blog post, it's easy to skip over those blog posts because there is nothing visual to look at and attract reader's interest. Pictures of your finished meals help to enhance blog posts and encourage readers to try the recipe themselves.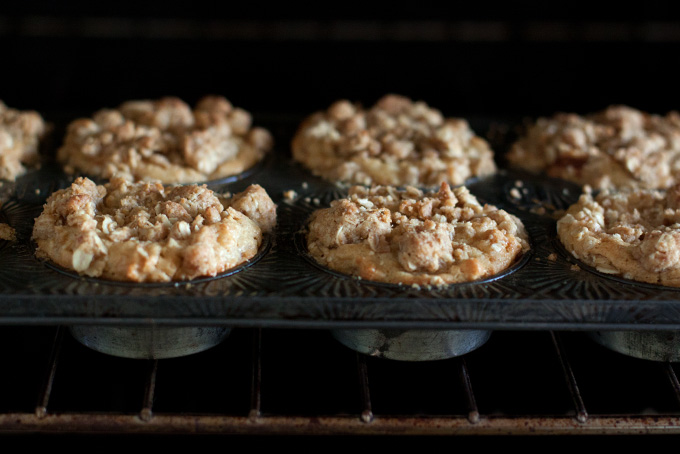 (One thing you need to remember is that your site should be easy to navigate and understand. Making a blog that is cluttered with many advertisements, or texts and pictures crammed into every page will distract the users. This causes confusion and will be more likely to hurt your blog's popularity. Therefore, it is important to keep your blog clean in order to convey your intent to the users.)
101 Cookbooks which has been featured in numerous newspaper articles and is a winner of numerous awards for the best food blog, is one good example of this strategy. The author of the blog, Heidi Swanson, usually used her photos of food as an explanatory tool of her recipe. At the very beginning of her blog post, she puts a photo of finished food. Then, she parades other photos of incomplete food or essential ingredients while telling about the stories and recipes. When Swanson posts her recipe of oatmeal muffins recipe, she uses four pictures of the food as usual. At the top of the blog post, she puts one main photo of finished muffins. Then, she exhibits the three others to indicate the procedure of the recipe while telling a story. (You can look at these pictures on the right side.)
The photos prompted consistent responses from most of the readers. They highly appreciate the work and leave favorable comments on the post. Reader blakely@ladylovefood comments, "These look delicious! […] You're an inspiration to all of us bloggers! Love and light." Another reader Ashlae comments, "Oh my goodness. I looked at that first photo and let out a loud, drawn-out gasp. Suddenly, I want a muffin. […] Perfect. I cannot wait to make them." They express their feeling of love, joy, or surprise about the photos of the muffin. They even seem very motivated to cook. Many other readers also praise her recipe very highly by using similar expressions, like reader Kathy's saying, "look great! I can't wait to try." These mouth-watering pictures not only enable the readers to imagine the taste of the food, but also inspire or encourage them to try the recipe.
Smitten Kitchen, awarded the top spot in Babble's Top 100 Food Mom Blogs 2012 for the second year in a row, also illustrates that her appetizing photos of foods appeal to the emotion of the audience, such as pleasure and love, and finally inspires them to follow its recipes. Like the 101 Cookbooks, Smitten Kitchen uses food photos as an explanatory tool of the procedure of the recipes. When the author Deb Perelman provides the recipe, sweet potatoes with pecans and goat cheese, she uses six photos to explain the procedure of recipes (the pictures are below). She parades the photos of incomplete food or essential ingredients while telling her recipe. Her photos prompted consistent responses that her readers express their favorable feelings about photos and willingness to try the recipe. Reader Liz comments, "These look fantastic! I think they will be appearing on my thanksgiving menu!" Another reader blogcoholic comments," I want to try this one. It looks appealing. Thanks for sharing this recipe! :)" Like the 101 Cookbooks, most of the audience appreciates the author's work highly and expresses their willingness to try the recipe. Perelman can give her audience a motive to follow her recipes by posting appetizing food photos while writing in the food blog. Furthermore the strategy creates opportunity for her to have the popular and famous blog.
You may produce some really great recipes, but if those entire dishes do not look appetizing, it is hard to attract readers to your blog. Photographs like the examples which may get your reader's mouths watering not only attract them to your blogs, but also inspire them to try your recipes. Then, the effectively-used pathos may eventually motivate the audience to participate as an active member in the blog.
Conclusion
Pathos is the emotional influence of the writer on the reader. The goal of pathos is to create a favorable emotional connection between the reader and the objective of the writer. There are various ways to achieve an emotional reaction in the audience. In food blogs, sharing personal stories and photographs of food, which can entertain or attract the audience, is an effective way to help you achieve your goal of motivating people to become active participants in your blog. Finally, the effective use of pathos is one of the most important aspects in drawing in your audience and maintaining a successful food blog.
Bibliography
1. Dlugan, Andrew. "18 Paths to Pathos: How to Connect with Your Audience." Six Minutes RSS. Six Minutes, 15 Mar. 2010. Web. 25 June 2013.
2. Itoh, Makiko. "Just Hungry." Just Hungry. Makiko Itoh, n.d. Web. 25 June 2013.
3. "More Favorites from Everyday Food." Martha Stewart. Martha Stewart Living Omnimedia, Inc, n.d. Web. 25 June 2013.
4. Norris, Michelle. "Ice Cream Extravaganza Giveaway!" Brown Eyed Baker RSS. Brown Eyed Baker, LLC., n.d. Web. 03 June 2013.
5. Perelman, Deb. "Smitten Kitchen." Smitten Kitchen RSS. Smitten Kitchen, LLC., n.d. Web. 03 June 2013.
6. Swanson, Heidi. "Edible Flowers." 101 Cookbooks. Say Media, Inc., n.d. Web. 03 June 2013.
7. "The Top 100 Mom Food Blogs 2012." Babble RSS. Disney Family, n.d. Web. 25 June 2013.
8. Wilhoit, Stephen. "Rhetorical Analysis." Brief Guide to Writing from Readings, A. 6th ed. N.p.: Longman, 2012. 118+. Print.
9. Wilson, Joy. "Joy the Baker." Web log post. Joy the Baker. Joy the Baker, n.d. Web. 03 June 2013.
10. Weston, Nicole. "Baking Bites in the Best 50 Food Blogs in the World." Baking Bites. Baking Bites, 19 Feb. 2009. Web. 25 June 2013.
page revision: 72, last edited: 28 Jun 2013 05:09